20th July 2017
By Matthew Fever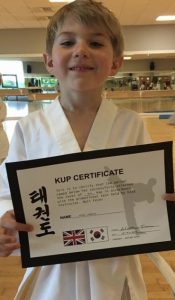 At just age 4,  Jude is one of the youngest members on my Little Dragons Taekwondo Programme.
Jude started training with us as soon as he turned 4 and has been having a great time in classes, learning a variety of new skills. Last week he was awarded his first grade, a yellow stripe.
Martial arts provides a great opportunity for children to develop themselves physically and mentally. Watching Jude grow over the months in confidence has been great and now he has completed the first step on his journey through martial arts.
Taekwondo has a very clear goal setting structure with the stripe/belt system. It keeps children focused and working towards their goals whilst teaching them valuable lessons such as hard work and perseverance along the way.
The Little Dragons programme is carefully designed to be a gateway into martial arts. The classes are fun, energetic and aim to develop the following:
Self Confidence
Listening skills and concentration
Self control
Social skills through group interaction
Awareness and safety
Respect and self discipline
Physical skills such as balance, co-ordination and flexibility
All classes take place at Bannatynes Health Club Norwich (East). Times are as follows –
Mon: 16:00-16:30 Little Dragons Taekwondo (ages 4-6)
Mon: 16:30-17:30 Junior Taekwondo (ages 7-14)
Thurs: 16:30 -17:30 Junior Taekwondo (ages 7-14)
If you feel your child could benefit from my programme. Please get in touch.